Horsin' Around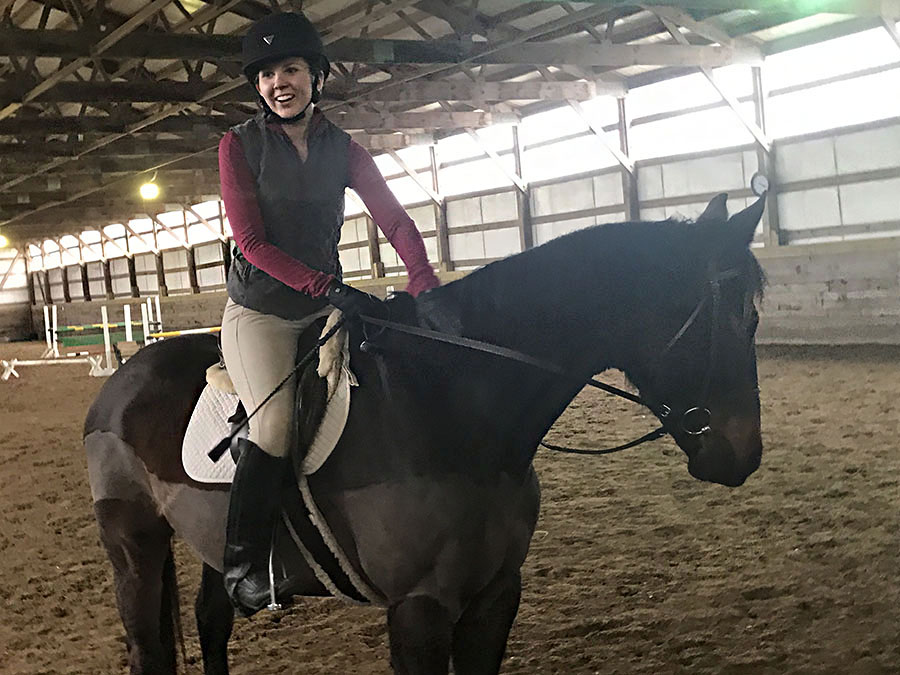 Grace Heller, Intern
April 10, 2017
When you hear the phrase "after school sports", horseback riding probably doesn't come to mind, but for Hannah Luce 18', it's the first thing. Luce has been riding horses since before fourth grade and taking lessons since.
Luce has always loved animals, so when she and her family went horseback riding on a camping trip in Minnesota, she fell immediately in love with the animal. "For some reason, horses just appealed to me," says Luce.
Luce has been taking lessons on horseback riding since to improve her skill. She even competes in competitions through her barn, Oak Meadow Farm. Competitions have taken her to places such as Kansas City and Des Moines, where she regulars in the summer. Her coach's' name is Amanda Middendorf, who has an accomplished career, with over 10 years experience.
Luce is lucky enough to have her own horse, "Atlantis". "He is such a sweet horse," says Luce. "He is literally the laziest horse ever. At first, he was meant to be a racehorse, but he was too slow."
At the moment, Luce is trying to build up her horse "Atlantis" to be sold. She, sadly, has outgrown his skill level. "He deserves a great owner," says Luce. "It's kinda sad. I will miss him."
One of Luce's proudest moments are the lessons she took from Michael Barisone, an extremely accomplished competitive horseback rider and 2008 Olympic team member, and Olympic dressage coach.
Luce's mother has always been incredibly involved and supportive of her. Unlike other parents, Mrs. Luce stayed to watch the lessons instead of just dropping her off. "My mom would stay and she would have the same experiences that I would have, and be more educated in contrast to the other parents. And I really appreciate that a lot."
Luce also gets support from her friend, Lily O'Brien, who attends City High School. "We're both in it together, we've both been doing it for a while so we both lean on each other. We are sort of cheerleaders, especially when we're competing together. If we are in the same class we always say, "Oh my gosh, that was such a good round, you did such a good job" and support each other that way." says Luce, "
Luce plans to continue riding horses. "In college and stuff, I'll probably ride, if there is a barn nearby," says Luce.  "I'll plan on owning horses in the future and introducing my future children to it, if they are into it."
Horseback riding is a challenging, but rewarding sport. For Hannah, it's worth the effort. Horseback riding might not be the most popular sport, but those who do it, seem to love it.