Life lived through music
Sumner Wallace '20 talks about her lifelong passion for music and performance-- though her motivation for the latter differs from some.
Hang on for a minute...we're trying to find some more stories you might like.
Dozens of faces surround you as you sit at the piano, alone on stage. Lights dim down, and you feel the hot heat of the spotlight burn down on you. To some, this sounds like the perfect dream. However, Sumner Wallace '20 doesn't feel the need to to perform for others: she performs for herself.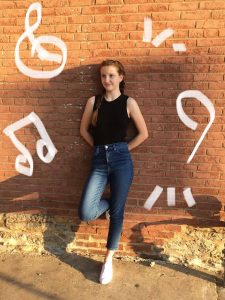 Wallace has been participating in music for most of her life. She grew up in an artistically talented family, and her mother was once a professional dancer. Mrs. Wallace started ballet at age eight, began serious studies in eighth grade, then later went on to dance professionally for ten years. She began ballet at Houston right after high school, went on to Hartford, then Washington D.C. Being around all these fine arts prompted Wallace to start something as well.
"I started off in preschool doing kiddy ballet classes," Wallace said. "I've always been kind of interested in dancing, since my mom was a dancer."
However, Wallace didn't stick with dancing for very long, and found that she enjoyed singing. Both parents and her brother played musical instruments, and so there would be music in the house most of the time.
"I liked singing along when I was little, so that's what interested me in music."
Her mother, Elizabeth Wallace, adds, "Sumner often sings around home. I love hearing her."
Wallace originally went on the same track as her brother and enrolled in band for a year, but found it wasn't for her. She disliked the band director, and didn't enjoy playing clarinet as much as she'd hoped. However, she has been playing piano since second grade, and thoroughly enjoys it. She currently takes piano at West Music.
"
Sumner often sings at home. I love hearing her."
— Elizabeth Wallace
"For the piano kids, there were these little concert-type things every so often where you would perform what you've been working on. I never really did those, because they don't motivate me. I guess I do things for myself. I don't really do concerts. It didn't really interest me, that people were clapping." Wallace said she performs for herself, and doesn't seek the approval of a crowd.
In addition to piano, Wallace has taken choir for several years, though she was skeptical about it at first. "I was going to audition for girls choir in 3rd grade– no, 4th grade– so I went to Horn Elementary for the audition, but at the last second I freaked out and bailed."
"
"When Sumner exudes confidence, she is a natural."
— Abbie Callahan
Abbie Callahan '20 has been in choir with Wallace for two years going on three, and comments on her performance. "When Sumner exudes confidence, she is a natural. Sumner loves to perform, she is always excited to put on a great show and pumps up everyone around her." Callahan said. "Sumner is very independant and a strong woman; she always has been."
Maia Degrazia '20, a good friend of Wallace, seems to coincide with Callahan. "We have been good friends for about a year, but have known each other longer," says Degrazia. "[Wallace] is a bright, humble, and authentic person."
Wallace plans to continue piano, choir, and show choir throughout the rest of high school. "I'm so glad I decided back in freshman year to try out for show choir. Every time we finish a season, I look back on it and reflect, and think 'Wow, I want to do that again.'"