A New take on the Winter Play
Theatre West's 2017 winter production, Twelve Angry Jurors, is a cast of only 14, compared to a typical production, which features up to one hundred cast members. This small cast size will mean many different things for the drama department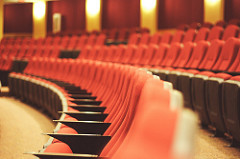 Hang on for a minute...we're trying to find some more stories you might like.
Twelve Angry Jurors is a play about jurors coming to the final verdict in a murder trial in the inner-city. The jurors let their own emotions and problems affect their decision, which creates a hectic scene. Adapted into a movie in 1957, Theatre West will perform this drama from Dec. 1-3.
This unique year for the drama department is an exciting change that students and staff are excited to see play out.
"We have such a great student body here that is supportive of their peers that we can have a large audience with peer support and community support," says Director Katy Nahra. Nahra is confident the small cast size will continue Theatre West's tradition of attracting large audiences.
Some anxiety is still created, as with any performance, but the cast reduction causes a different kind of stress.
"There's no hiding, they're all on stage for the entire two hours," Nahra said. "This play creates an intense challenge for our young actors and West High to deal with."
Cast members agree. "A lot more spotlight and pressure on you, and less room to mess up," said Sam Sunderland '19.  Fortunately, the smaller cast size has led to stronger cast connects and a tight knit group. Throughout his years at West, Sunderland took part in five Theatre West productions and he is excited to embark on his sixth.
The smaller cast will not stop the crew numbers from growing. There are over 100 students on crew, and Nahra hopes to keep these numbers up. "We have a big crew and it's very helpful because even though it's a small cast, it's a lot of set we have to build," said Catie Miller '20 who is currently working on crew building sets.
The spring musical is West Side Story, a huge Broadway production that will need the power of an amazing crew. This will reignite the tradition of a large cast for Theatre West. West Side Story will be performed in early April.