Overcoming obstacles
Dance competitions are fond of dancers that are flexible, but Isabelle Bach '21 doesn't quite fit the mold.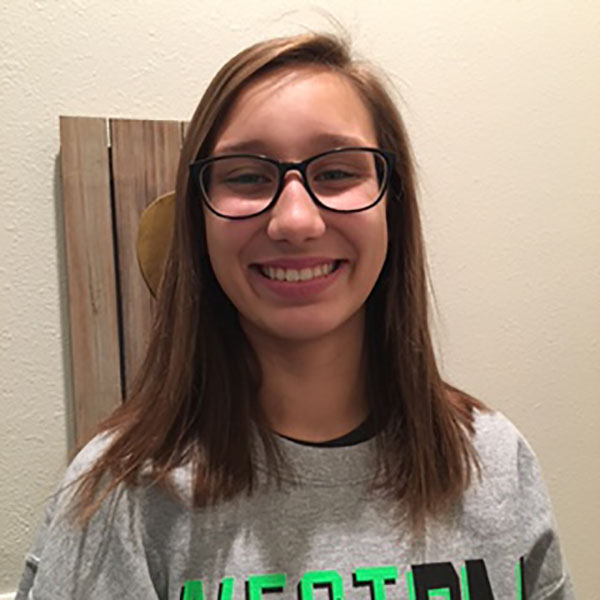 Hang on for a minute...we're trying to find some more stories you might like.
As she hears dance number 74 getting called on stage, she prepares herself for the intense yellow lights and the sudden warmth of them hitting her body. The judges watch from their table, which it peering slightly above the stage, as she emerges with confidence and happiness from the mysterious curtains. What hides behind those curtains is a true mystery to the judges. She strolls across the gray tinted stage to her starting position. With taking a deep breathe, she begins.
Isabelle Bach '21 is a dancer at Nolte Academy of Dance who struggles with the amount of flexibility she obtains. "I think I have a lot less flexibility than most people, or probably all of the people at [Nolte Academy of Dance], " Isabelle said.
Isabelle has been dancing since was eight years old. "When she was growing up, we would do like summer camps at Nolte, and she did a few of those. Then, she dabbled in gymnastics and then I believe it was maybe her third or fourth grade year, she devoted her time to dance. And a lot of it was because her peer group was… dancing," said Isabelle's father, Jon Bach.
Isabelle does competition dance with Nolte Academy's competition team, Affect. Usually, competitions take place in spring, and Nolte Academy starts practicing for competitions in the fall. On March 23, 2018 to March 25, 2018, Affect went to Middleton, Wisconsin to go and attend the Legacy dance competition. On March 23, Isabelle performed her solo called "Landfill", and her duet with Madeline Brown '21 called "Disappearance".
"It's a really fun experience getting to dance with Isabelle, because she is so talented and hard working. But, she also manages to keep a positive attitude and fun spirit, which never fails to put me in a good mood," Brown said.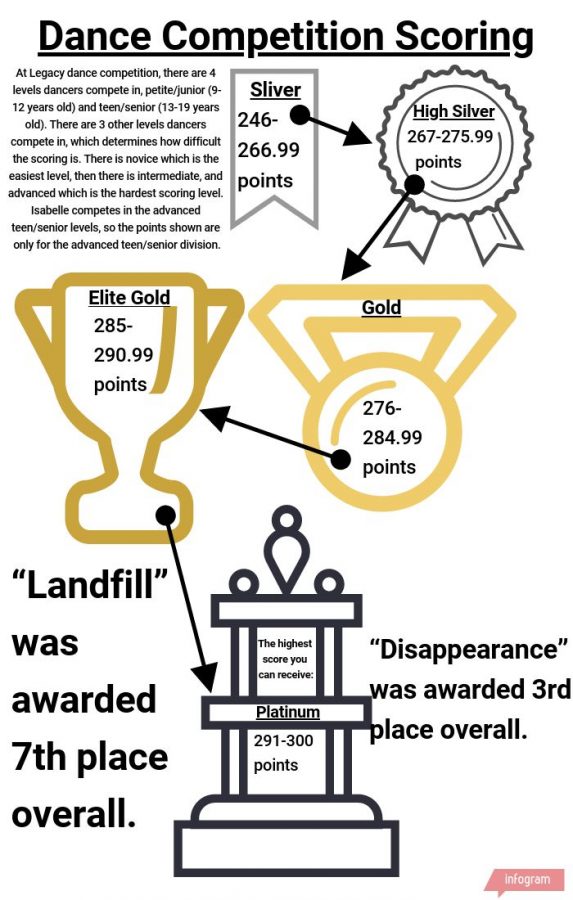 In 2016, a week before competition season started, Isabelle's foot hurt with intense waves of pain. Isabelle decided to go to a doctor to check it out and they gave her a MRI. It revealed that Isabelle had three stress fractures in her foot. Her doctor told her that she couldn't dance for six to eight weeks, but a miracle happened. Her stress fractures healed in four weeks and the her doctor allowed her to start dancing again. "I didn't really know how to deal with them[injuries] and I was not very smart and… the day I got my crutches off, which was a month later. I went to dance that day. I didn't run, I didn't jump right… which probably was not the best idea, because after that it[her foot] continued to hurt. And a year later from that March, I got another MRI, and a X-ray, just to see what was going on, because to me it felt like it didn't get any better. And instead of it being a stress fracture. This time it turned into a fracture. So, my bone had split," explained Isabelle. Her doctor told her that the only way that her foot would be able to heal was if she got surgery, but it was right before competition again. She decided to hold off on the surgery. To this day, Isabelle doesn't want to get surgery until it is absolutely necessary.
"I've always known that I wasn't as flexible as my peers at the studio, but… just in the past couple of years, when I've started to become really serious about dance, it kind of like has gotten to me," said Isabelle. When, Isabelle was 8 to 11 years old, she didn't seem to care about how much flexibility she had. Now that she is 15 years old, she has become more bothered by it, but it doesn't hold her back from her dreams. "I think like a long term goal would… to have dance somewhere in my future. I don't know if it would be like dancing with the company yet or… being a dance teacher or something like that." Isabelle said.
Isabelle is a dancer at Nolte Academy that loves what she does and would never give it up. Her flexibility holds her back, but it doesn't stop her from being herself while she dances. She has had some injuries, but it doesn't stop her from trying hard to maybe one day becoming a dance teacher that had a successful professional career. "When I think about dance, I don't think of someone… kicking their leg up to their head or doing a really big leap or doing some really cool trick. I think of it as a person just dancing… how they want to dance. And for me, that's just moving and it doesn't have to look perfect… it can be ugly… it just matters how it feels to the person," said Isabelle.