The Bookworm
Good books are hard to find and I would like to make that search just a little bit easier. I tend to read fantasy/fiction books that can allow me to submerge myself into different worlds. While I tend to enjoy most of the books I have read, there are a few that I think everyone should read.
Hang on for a minute...we're trying to find some more stories you might like.

Her Fearful Symmetry by Audrey Niffenegger
Julia and Valentina are twins. When their mother's twin, Elspeth, dies and decides to leave her flat to the girls, her only condition is that their parents don't step foot inside until they have lived there for a year. The girls move in to find an eclectic space. The London flat borders the Highgate Cemetery and the sisters start to find out more about their mysterious aunt. They meet her neighbors, her lover, and possibly Elspeth herself.
In my opinion, this book was a good read. The mystery aspect of the book kept me hooked through the slower beginning. For the most part I enjoyed the side stories. Over half of the book was Julia and Valentina getting into arguments, which led to me getting the feeling that the twins were not very happy with each other. The book seemed to be a little random at times, but so am I. It kind of matched my thinking style, jumping around, a lot. I was a little confused by the plot and why the twins moved into a flat after never really knowing their aunt. Some of the plot points that come into play towards the end of the book are really unnecessary and confusing. Overall, the book was good, but the confusing storyline made it hard to read.

Reality Boy by A.S. King

His whole childhood was a TV show. Gerald Faust has major anger issues, brought on by the reality tv show, Network Nanny, his mother brought into his life when he was five. Nicknamed 'The Crapper', he struggles to lose the image he created for himself twelve years before.
This was an intense book and I have not read another like it. "Reality Boy" took me on a rollercoaster of emotions that allowed me to feel like I was in Gerald's world. It addressed the damaged mental state of Gerald and how something in childhood can mess a person up for a long time. It was not an easy book to read because of all of the emotions that I felt when reading it: contempt for the people who make fun of Gerald, heavy-hearted for the times when Gerald has to find family in strangers. This was an all around good book that I would recommend to people who don't mind swearing.

Chasing Orion by Kathryn Lasky
Polio is just something found in newspapers, right? This is what Georgie thought before she met Phyllis, the girl next door. Georgie starts to talk with Phyllis, who is outside everyday in her iron lung(a machine used to help people suffering from polio breathe), but is Phyllis lying to Georgie? Will Georgie be able to unravel the web of lies that Phyllis spins?
While this was a good book, it was not very memorable. I usually am able to remember the plot of a book, but had to jumpstart my memory for this review. Some of the good aspects came from the fact that it described some side effects of polio that tend to be less thought of. Usually one would focus on the medical side to the sickness, but this book tended to focus on the more social aspect of it. My overall opinion on this book is that it was a good read while I was reading it, but it wasn't good enough to keep at the forefront of my repertoire of books to recommend.

The Lion, the Witch, and the Wardrobe by C.S. Lewis

The second book in the Chronicles of Narnia series, The Lion, the Witch, and the Wardrobe follows the story of Peter, Susan, Edmund, and Lucy as they travel throughout the Kingdom of Narnia. While playing a game of hide and seek, Lucy finds the hidden doorway into Narnia and meets the faun, Tumnus in a world filled with talking animals and snow. When Lucy returns to the house, she tells her siblings about her small adventure. Her doubting siblings enter the world of Narnia and find the adventure of a lifetime.
This classic book is one of my childhood favorites. The adventure of the characters enraptured me. While it is the second book in the series, it can be read first as the first book, The Magician's Nephew provided a detailed background for this series and how the wardrobe came to be. The book was published before any of the others and does not need the background to be understood. I enjoyed the connections I could make with other pieces of literature throughout the story. It is a book that can be read over and over again and still be an interesting read. C.S. Lewis wrote with great detail and created a world that I would love to be a part of.

The Thief Lord by Cornelia Funke
Prosper and Bo have run away to Venice, Italy. With nowhere to live, they fall in with a group of thieves led by the Thief Lord, Scipio. The group lives in an abandoned movie theatre that provides Bo and Prosper a hiding place from the detective that has been sent to find them. Will the boys' hiding place keep them safe? Should they trust the Thief Lord?
I read this book as part of a book club. When I started to read it, I was insanely bored. The story was slow and boring and it had nothing I usually liked to read. The book was definitely aimed towards a younger crowd because the characters were all fourteen years or younger. I enjoyed the setting of the book, I could feel like I was in Venice along with the characters. While I did enjoy the book, I have definitely read better.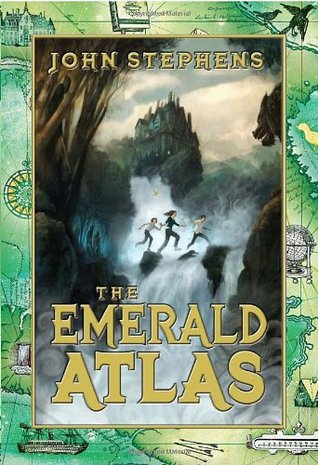 The Emerald Atlas by John Stephens
Kate, Michael, and Emma have lived their lives in orphanages, hoping that their parents would come get them. After being rejected by a potential parent, they are sent to Cambridge Falls where they meet Dr. Pym and live in his mansion. While exploring the mansion, they find an emerald colored book that when touched by a photograph, transports them to the place and time the picture was taken. Will the dark past of Cambridge Falls be revealed? What will happen when Kate, Michael, and Emma travel through time?
I first read this book because it was a gift from my grandparents. I loved the fact that the book is part of a trilogy because it allows the characters to grow more, the character development in the first book alone was amazing. The book's plot is original and engaging. I enjoyed that the usual time travelling story was twisted from the character just having the power to needing a prop, or the book. I could really connect to each of their problems and worries. It showed some of the bad aspects to having siblings, but it also allows one to see all of the good. Because I am the oldest of my siblings, I can totally understand and connect with Kate's worries and stress about her younger siblings. I would absolutely recommend this book to anyone who needs a good series that will keep them on their toes.