Club connection: Science Olympiad
Science Olympiad is one of West High's many academic clubs focused on science. After their spring competition, the team hopes to engage current members with different events and get new members to join.
A group of students dressed in matching gray t-shirts eagerly march across the hallway. Some are clutching delicately glued wooden helicopters, others are shuffling through binders stuffed with color-coded note sheets and several more are sporting lab coats and goggles. No, they're not doctors or researchers. They're the West High Science Olympiad team.
The Science Olympians are a diverse group of around 20 students, ranging from freshmen to seniors, chemists to biologists to physicists, and people with a general interest in science to people wanting to major in science in the future.
Carolyn Walling, the club's advisor, encourages this diversity within the club. "It's never too early to sign up for Science Olympiad. You can sign up now, and everyone is welcome."
"
[My favorite part about Science Olympiad] is all the nice people that you meet there. They're really helpful and encouraging."
— Tanim Haque '20
Several members joined the club in the hopes of meeting all kinds of new people, since members can work with partners for certain events, creating a bond between two people with similar interests.
"When I was a freshman, I didn't know that many people. [My favorite part about Science Olympiad] is all the nice people that you meet there. They're really helpful and encouraging," said Tanim Haque '20, a member of the club.
Kevin Yang '20, another club member, agreed with Haque.
"I love meeting new people and getting to work with them. I've met a lot of friends in Science Olympiad that I might have otherwise never met."
Although meeting new people is something that many Science Olympians value, the most important part of the club are the actual science-related events. There are two different categories of events: engineering and paper tests. In engineering events, competitors work ahead of time to build towers, vehicles and helicopters out of various materials. In the paper tests, competitors compile notes and learn about information pertaining to their event, then take a test on the day of the competition.
"[In] the engineering [events], [students design] something totally different than what they normally would do. The paper tests, it's different than normal school, because you're not taught something and then you take a test about it, but it's more that you have to gain all the knowledge and then try," said Walling. "It's learning things that you don't normally learn in school, and studying things that are of interest to you."
Besides allowing students to explore topics they otherwise wouldn't have learned in school, there are several events that also allow members to showcase skills that they otherwise wouldn't be able to in school.
"[My favorite event was] probably Game On, which was an event where we had to program a game in an allotted time, because it allowed for a lot of creativity for the event," said Lem Elliot '20, who competed in Game On with Adam Conrad '18.
Yang has explored many different events, but his favorites were the engineering events.
"In [the engineering events], my partners and I get hands-on [experience] with the building, planning and the testing process. It really is like the [real] engineering process."
Yang also thinks that Science Olympiad has allowed him to attain organizational skills. With monthly meetups with the whole club to weekly meetups with partners, the club allows him to keep track of his schedule and manage his time well.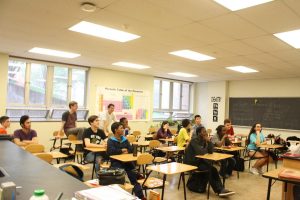 All of the members' efforts lead up to the annual Iowa Science Olympiad competition in April. This is a huge event for the club, as it is a culmination of all the hard work, time and effort put into preparing for the competition. In the months leading up to the competition, the team is hard at work, preparing for their different events, ranging from Mousetrap Vehicle to Herpetology to Write It Do It.
There are about 20 different events offered in Science Olympiad, and every member of the team plays an integral role. To determine the winning team, points are added up from every single event, so members try to take on as many events as possible and score as many points for their team.
This year, the Science Olympiad team placed sixth in the state, with members earning medals in individual events as well. In total, the team earned one gold medal, one silver medal and four bronze medals.
Pedro Marra '20 was a gold medalist in the event Anatomy and Physiology, a test based event that focused on the human body and its functions.
"I felt really surprised because I didn't think I could actually win a medal. In the end I actually won it so I was surprised and relieved," he said.
Almost every member has found several events that they are passionate about and excel in. Yang, a Mousetrap Vehicle competitor, is excited about what Science Olympiad has in store for him. He hopes to become one of the captains of the team next year.
"My motivation is mainly to make the club more involved with the community. I want to make [Science Olympiad] a more fun club, where members are more involved."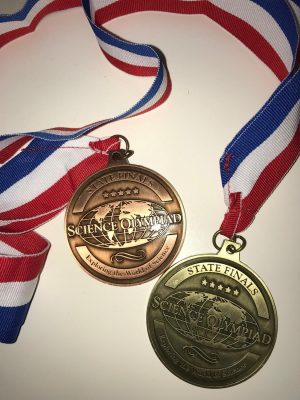 The team has several goals for next year. One of them is getting more members to join, because one of the biggest challenges the team has faced is a lack of members and participation. There weren't enough people to fill up all the events, which hurt the team's success at the competition.
"I hope that past members get lots of new members to join next year, because I think that we can really do well if we get more people involved," said Walling.
Overall, the team is proud of how they performed this year, and members are excited to pick new events and keep on immersing themselves in what they are passionate about.