A Will to Succeed
How a passion for politics came to be
Hang on for a minute...we're trying to find some more stories you might like.
It was the presidential election of 2016. News in online articles, newspapers, and on television raged with tension of who would be the next President in office. For Will Haddy '21, this sparked a greater interest and fascination with the world of politics, helping him discover a passion that would last for years to come.
Not everyone has established an exact plan for the future by sophomore year. When Will discovered he had a strong interest in politics, he realized he wants to pursue a career as a politician.
Will's interest in politics began at a young age. He enjoyed the variety of topics discussed throughout the different social studies classes he has taken. In American History 1, Will found that learning about the branches of the government and the amendments was very engaging. "I was always passionate about working with others," says Will. Because working and communicating with others is an important factor within politics, Will felt it would suit him well.
Will isn't the only one interested in the topic however. Will's family is very much involved in government news as much as he is. "We enjoy discussing at the dinner table the different issues currently facing the government," said Audra Haddy, Will's mother. "After seeing what's going on with the corruption and all the scandals with the current presidential administration, it's something we frequently talk about," says Will's father, Jason Haddy. Because he grew up in this atmosphere, this also contributed to becoming more attentive to the various political events that take place.
"
"The fact that a new president was being elected and Barack Obama was leaving, it was interesting to see the transition of power between the two leaders,""
— Will Haddy '21
As the presidential election of 2016 approached, Will and his family took part in watching news of the election. "The fact that a new president was being elected and Barack Obama was leaving, it was interesting to see the transition of power between the two leaders," says Will. His mother noticed he was very attentive in the events that were occurring throughout the election. "She told me this could be something to consider doing in the future because I took such an interest in the election," said Will. This marked the official moment Will realized that this is what he would like to pursue as a career.
Not only does Will find history and government fascinating, but he also has a very good memory that helps his ambition for politics. Having a good memory is an advantage because when memorizing important events, dates, or people, it comes fairly easy to him. His memory plays a significant part in the growth of his knowledge on history and the government. "I can read what is assigned in the textbook and instantly remember what it said," Will says.
Politics is such a broad area that there are many different career positions within the field. Will specifically would like to focus on law, possibly taking a position in the House of Representatives or the Senate. In order to reach his goal, he would start at local levels or in a State position before aspiring to national level. Will's parents are fully supportive of his dreams."I think that he would do great in law, or even a nonprofit organization in Washington DC would do him well," said Audra Haddy. "I support Will a lot in the political path that he wants to walk down," Jason Haddy says, "when I was his age I didn't care about what I wanted to do, but Will has a career plan that I support and look forward to seeing him follow it."
If Will were to be a part of office he would like to change many things for the better of the US. "With everything that is currently going on, it is very tense and dramatic," Will says, "My goal would be to attempt to ease that tension." Differences he would hope to make include addressing divisions within office and improving communication. Outside of office Will would like to address topics regarding immigration and crime.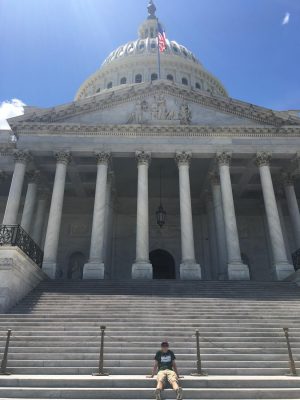 Will continues to nurture his interest in politics. Checking the news and keeping up with current events is how he continues to foster his interest along with the AP European History class he is currently taking. "It gives me a sense of pride, because it is something I am successful at," says Will, "I want to make an impact and improve the lives of many."