Breaking the Mold
As he shatters through barriers one by one, Gary Chen '22 knows only blood and sweat pushed him this far.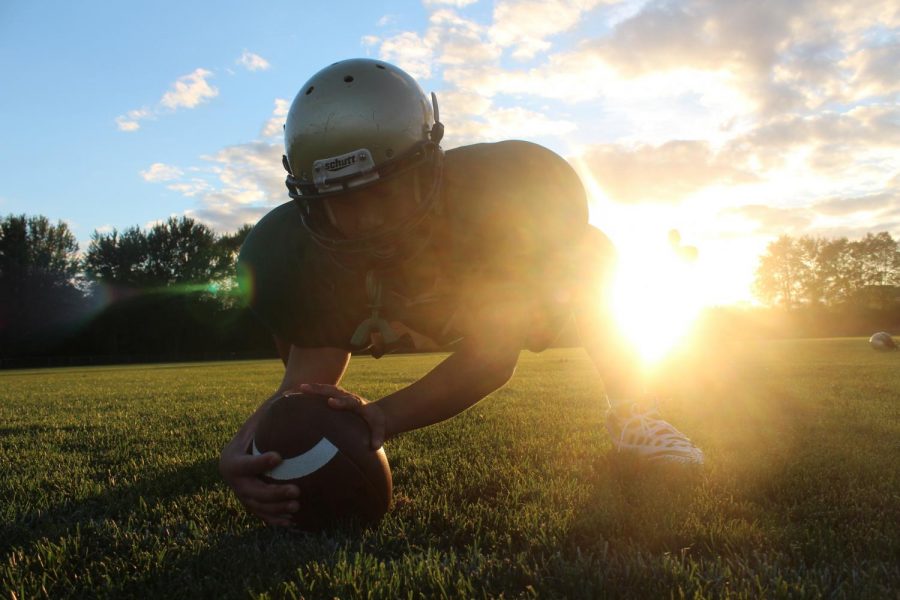 Jonathan Chen, WSS Intern
September 26, 2018
"
"You have to be willing to put in the pain to see the glory.""
— Gary Chen
Just over two years ago, Gary Chen broke stereotypes and defied his parents. He accomplished this by starting football. Why did he dare break past so many barriers? He liked the sport. That was all. He does not let anything stand in the way of his goal.
When Chen first started football in his first year at Northwest Junior High, he knew it was gonna clash with his parents. They had always objected to him playing football, and until this point, they had never let him, concerned about his safety. Yet, in seventh grade, they obliged. "I had to agree because he loved it[football] so much and I couldn't stop him," said Runping Wang, Chen's mother.
Even though he liked it, it didn't mean he worked very hard at it. During his first year, the amount of time he spent working on football outside of school amounted to a grand total of zero. However, as the school year came to a close, and something dawned on him.
"[I realized] that I could be one of the first Asians to succeed at this," Chen said. [Eighth grade] was a new opportunity."
So he worked. Hard. As summer hit, the amount of time he spent practicing outside of school rose to 4 hours a day. Sure enough, when it was time for eighth grade, he was a starter.
Now in his freshman year, Chen plays linebacker and center. As a linebacker, his job is to think fast, determining in a split second what his defensive role will be, whether to prevent a pass, stop a run, or, most importantly, blitz, charging towards the quarterback(the passer). On the other hand, while playing center on offense, his job is to make sure that the entire play starts smoothly, by snapping the ball to the quarterback. And he excels at both of these roles. However, now that he's good, it doesn't mean he's going to get lazy anytime soon.
"Everyday after practice, he just snaps [the ball]," said Owen Aanestad '22, one of Chen's teammates. "Everybody leaves, and he stays behind and keeps snapping. [Gary's] really outgoing, he's always wanting to get out into the game, and he works really hard."
Football is particularly important to Chen because it fuels his competitive and eager personality. "[It's] really that feeling of being able to show your assertion over a less dominant player, therefore making you feel more powerful," Chen said. "[There's also] the overall feeling of being in a team family environment."
These past two years of football have also made Chen grow substantially more as a person. "He(Chen)'s much more mature," said Parker McBride '22, a longtime friend of Chen's. "And he's way stronger."
One of his most important games was against Franklin Junior High in eighth grade. It was especially memorable to him because he "got to run over so many people."
As well as football, Chen also competitively swims. When he started swimming at the age of 3, he always looked up to competitive team swimmers and strived to join a team. So, two years later, he joined a team. In his first team, he made very little progress and eventually left. But in seventh grade, he joined a new team, IFLY.
"I felt like IFLY was really a better team for me, because I started improving really fast, and everything went better," Chen said.
Competitive swimming especially appeals to Chen because of the exhilarating spirit that's embedded in the sport.
"The thrill of winning and the rush of going fast always fulfills me," Chen said.
Competition and hard-work are things that Chen's character has always pointed him towards, and sports are a perfect fuel for his fiery personality. Looking forward, he's aiming for his next goal: All-State for football. His love of competition, and especially hard-work, will be influential in achieving this goal.
"For all aspiring athletes, talent is apesh*t. Only hard work and dedication will get you to where you want to be," said Chen. "You have to be willing to put in the pain to see the glory. Pain is weakness leaving the body. Get used to it."