Got Blood?
Students donate blood at the school blood drive.
Students had the opportunity to donate blood at the semi-annual University of Iowa blood drive, in the Arganbright auditorium lobby. Students ages 16 and older took time out of their day to visit the lobby, where Iowa City Degowin Blood Center set up the equipment necessary for collecting the whole blood donations. The event occurred on Oct. 24-25 during the school day.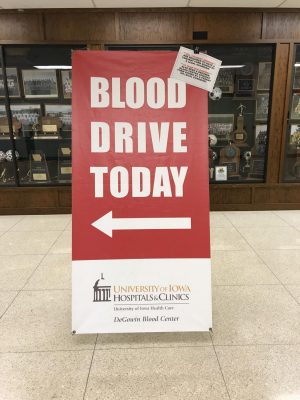 "The first day we had 31 donors, 21 successfully donated, which is like really good," science teacher, and event coordinator, Carolyn Walling said. The second day, 16 students were able to donate, out of the 32 that signed up. In total, 37 pints of blood were donated.
West High has participated in the University of Iowa blood drive since 2000, with over 400 pints of blood being donated in just the past six years. As one pint of blood is able to save the lives of two people in need of a blood transplant, approximately 814 lives have been saved from West High donations, according to Jessica Hinrichs, Degowin Blood Center advisor.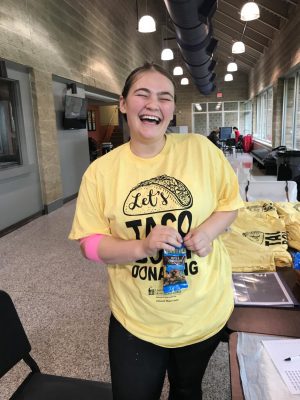 Students are compelled to donate blood for a variety of reasons. "A lot of times they come for the freebies that we give away at the blood drives, like the taco t-shirts," said Hinrichs. "Some do it just to give back to the community; others do it for a loved one they knew that once needed blood so they are connected to the cause; some are just moved by others' stories and love the idea they are helping save a life and make a difference, and of course there are others that do it because you burn calories when you donate (a little over 600) and they have a good time hanging with our staff."
For Olivia Benda '19, donating blood is a way to fulfill childhood aspirations.
"Ever since I was like really little, my thing when I turn 16 is I want to donate blood," Benda said. "It's like my way to give back to the community." Because of her contribution to the health of the community, Benda was rewarded financially by the Degowin Blood Center scholarship program, which provides a $500 scholarship for seniors who donate. Walling enters the senior donors into a raffle and the winner is chosen at random. Benda plans on using the money towards paying her college tuition. She hopes to pursue a major in pre-med and veterinary medicine at Iowa State University.
Benda has donated plasma and platelets at the DeGowin Blood Center previously, but this was her first time donating whole blood. In platelet and plasma donation, the blood is separated and the platelets are extracted. The remainder of the blood is put back into the body, which allows people to donate every two weeks. However, in a whole blood donation, donors ages 16-17 are required to wait at least 20 weeks before their next donation.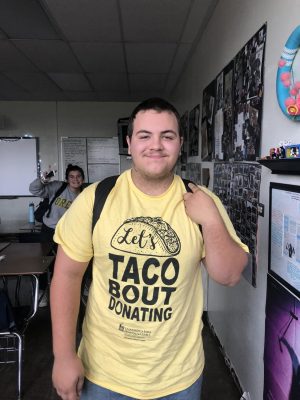 Unlike Benda, Brock Pelfrey '20 donated blood as a spontaneous way to try something new and different.
"I just felt like doing it. Well, I wanted to see how bad it was." Pelfrey said.
Pelfrey also states that he was not frightened prior to his donation. However, it is perfectly common for students to feel anxious about their donation.
"Before I went to sleep the night before, I was so scared, I was like so nervous….. And then after, I felt really good about it because you just like help two people every time you donate," said Mami Selemani '20. Selemani donated for the first time during the drive and plans to continue donating in the future.
"It's not as bad as it looks. It doesn't hurt that much," says Selemani.