Climate Strike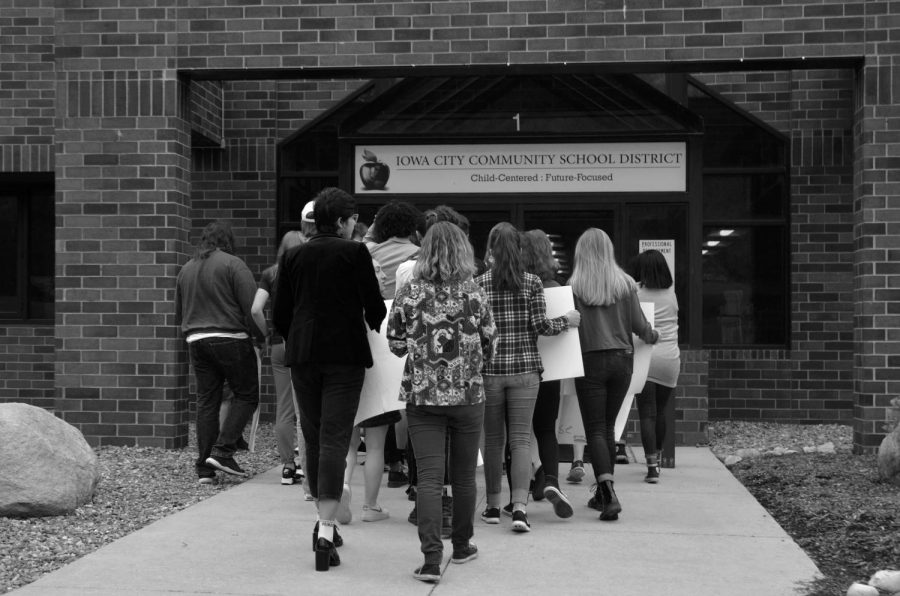 Twelve years. That's the amount of time we have to limit the drastic effects of climate change before they become irreversible according to the United Nations.
Global warming must be kept at a maximum of 1.5Cº in order to prevent the dangerous risks that our earth becoming any warmer would bring. Extreme temperatures, flooding, and droughts are just a few examples of these.
In order to prevent these effects, researchers for the UN panel say that carbon dioxide emissions have to be cut by almost half of the levels in 2010 before 2030. Some things that one can do as an individual is reducing intake of meat, turning off lights not being used and carpooling, taking the bus, walking, and composting any qualified foods.
Recently, all around the world students have been striking for the climate. Greta Thunberg, a 16-year-old climate activist whose campaign, called "School Strike for Climate" has sparked this movement with hundreds of thousands of teenagers participating. In a speech to the EU Thunberg said, "Why should I be studying for a future that soon may be no more, when no one is doing anything to save that future? And what is the point of learning facts when the most important facts [given by scientists] clearly mean nothing to our society?"
In Iowa City, a group of Southeast Junior High and City High School students have been striking every Friday for the last seven weeks at the ICCSD offices. The strikes were started by Mo Pacuitto Biggers '23, a Southeast Junior High student. Three weeks into the strikes, students from City High joined the movement. "I think people underestimate the power of meeting together," City High student Diego Pacuitto Biggers '20 said.
At the strikes they have speakers, posters, and have been gradually gaining support from the community; including a group of women known as the "Green Grannies" who are avid supporters of the movement.
The student's actions have been faced with both positive and negative reactions. They were recently recognized for their efforts on Greta Thunberg's social media. Each week she recognizes one group in each country that participates.
Not everyone has offered their support. "We've had teachers at our schools who have refused to talk about climate change issues because they think, first of all, it's partisan and, second of all, that it's not what's important," City High student Yardley Whaylen '20 said.
In addition to some teachers showing little support, Pacuitto Biggers said that the least amount of support has come from higher up. "The person who has given us the least support is [Superintendent] Steve Murley, as well as [Assistant Superintendent] Mr. Degner…[he] told us that we should be doing something else and that we could be using our time better."
To Whaylen, their lack of support is hypocritical, "As leaders in education, you should be supporting this and saying 'yes, these are your ideals, make it happen.'" she said.
Speaking with Murley, he talked about how complicated making changes can be within the ICCSD. "The board makes decisions, and then directs the administrative team and teachers what to do…one of the things they want us to do is change the curriculum. But that's not just something we can go ahead and do, that comes with the direction of the board." Murley also believes that because there are so many problems the school board faces, this constant pressure from students is keeping the topic at the front of discussion which is important. One thing the ICCSD is working on is engineering future buildings' roofs to be able to hold solar panels. In the meantime they are looking for large green spaces they can place huge solar panels to help power ICCSD buildings.
But the lack of support these students are feeling from administrators isn't halting the students' efforts to make change, they vow to keep striking every week until their voices are heard and action is taken. West High students are welcome, and encouraged, to join the strikes in the coming weeks. "Come strike with us! Come join us! Put all that West-City hatred aside, let's be friends and change the climate," Whaylen said.
According to Sheila Zeithamel, a supporter of the student-led climate strikes, the change can start right here with you. "If the young people of today are willing to stand up, take action, and have their voices be heard, then I can lend my support to them and do whatever I can to help their voice be heard." Zeithamel is an active member of the Cedar Rapids Sunrise Movement. The Sunrise Movement's goal is to help stop climate change and during this process create jobs for as many people as they can.
Most important, "[We need] a change in the public's awareness of climate change and the urgency that we need to do something about it…It's going to take all of us and every single person can make an impact…I'm excited that an awareness is growing and continues to grow, and I don't see it stopping." says Zeithamel.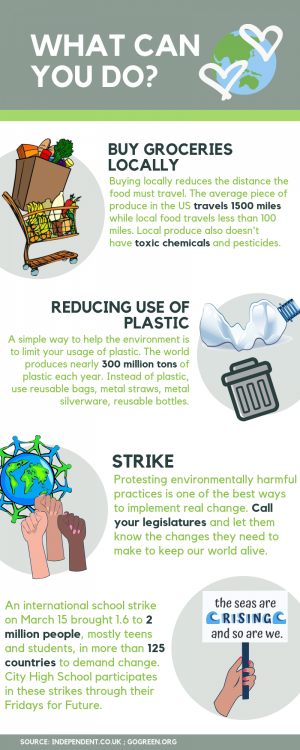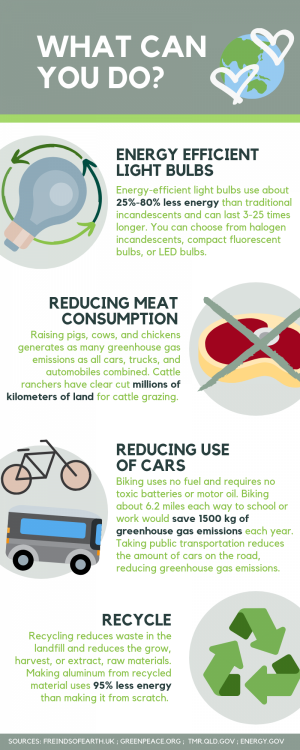 Design by Caroline Barker