BPA Takes on Nationals
BPA takes 29 students to Nationals in Anaheim, California
Mary Woodward
May 25, 2019
Hang on for a minute...we're trying to find some more stories you might like.
The Business Professionals of America Club took 29 students to Anaheim, California to compete at Nationals against more than 6,000 other students from all around the United States. The trip started with a 6:00 am flight out of Cedar Rapids that required half of the team to be at the airport at 4:30 am this flight would take them to Atlanta, Georgia with the other half of the team flying into Detroit, Michigan. The entire team would then meet up at the L.A airport around 2:00 pm to take a hour long drive to the Anaheim Marriott. Tuesday was a tour day that start with a walk through downtown Hollywood with kids perusing the Hollywood Walk of Fame and running around to see their favorite actresses and actors stars. The team moved along to Beverly Hills walking down Rodeo Drive and Sunset which if you don't know are famously known for their high class stores armed with guards at the entrances and Lamborghinis in the streets.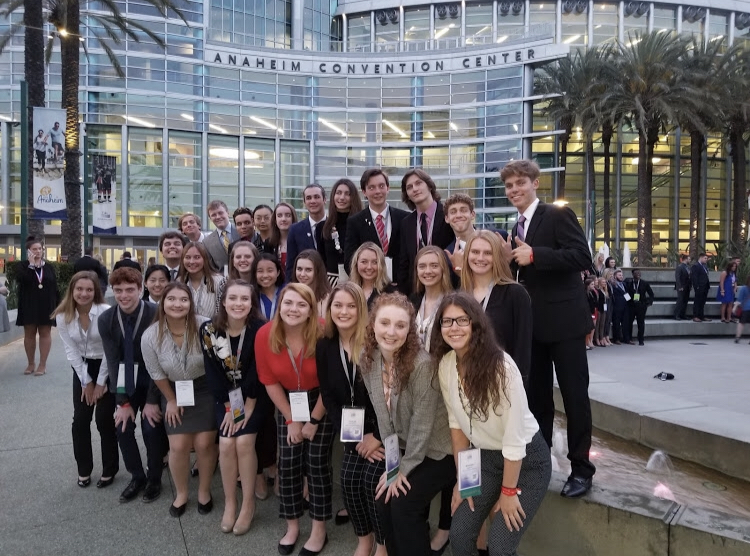 For lunch they traveled to The Market an outdoor market area known for great food and shopping. The day concluded with a trip to the boardwalk were students were free to roam the beach, ride roller coasters and shop. Wednesday was a free day for students to explore Anaheim and L.A with some students visiting Disneyland and Knott's Berry Farms. Later in the evening the team met up for the opening ceremony at the Anaheim Convention Center where there was a red carpet entrance, flashy lights and a keynote speaker. On Thursday competitions started up with kids from West competing in events like Small Business Management, Administrative Support Project and Presentation Management. Friday was a continuation of competitions. Saturday was a beach day where students traveled down to Huntington Beach to relax get tan and enjoy some shopping. Saturday night concluded with the closing ceremony and awards where seven teams from West placed top ten in the nation. The trip finished with an all nighter Saturday night leading to the 2:00 am meeting in the hotel lobby with another hour long drive to the airport with a 6:00 am flight to St. Paul, Minnesota, where the team had a five hour long layover before a one hour flight to Cedar Rapids. BPA is looking forward to their next nationals trip in Washington, D.C.