Accomplishing your goals
The story of how a mere obligation led to the discovery of a talent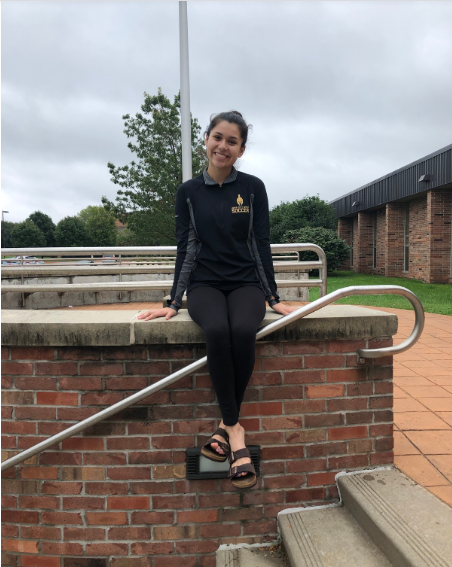 Walking onto the manicured field on the day of her first practice, the smell of fresh-cut grass in the crisp air, and the sun peeking out between the few soft clouds to be found in the clear sky, Galilea Flores '22 though of how it all started.
"At first I was just like, I have to do a sport. I'll just do soccer," said Flores, who like many students who just wanted to find a sport to put on their transcripts showing they were involved in school. 
Unbeknownst to Flores when she first signed up for soccer, she had a natural talent for the sport. "Everyone had to be goalie once so they could see who was a good fit," Flores said.  "The coaches were like, 'Hey you'd be good at this. Is this something you're interested in doing?' And I was like, yeah sure." 
As evident by her hesitation when first offered the opportunity to play goalie for the JV team, Flores wasn't sure if she would be any good at it but was willing to give it a chance. 
Luckily for Flores, she wouldn't be alone. Promptly after being introduced to her new position as varsity goalie, Julia Bernat '21 took Flores under her wing. 
"It's hard going into a position that you've never played before," Bernat said. E "Especially if you don't have much experience with the sport itself." 
So Bernat took it upon herself to help Flores grow into her potential. "She trained with me and taught me a few tricks that she learned overtime in her years of experience because she's been in soccer for a long time," Flores said. 
After learning the ropes, Flores began playing in the JV games, and just like every athlete, she experienced her first defeat. "When we're losing and [the other team] score on us, I feel really frustrated because I feel like the team hates me," Flores said.
"
She had improved a ton and even played the entire second half of our first regional game without letting in a goal!"
— Julia Bernat '21
Like many, even professional, goalies, Flores struggled with the feeling of guilt when she was scored on. "I remember when we were losing a game once [the opposing team was] really good. The varsity coach, Dave Rosenthal, came over and he was like, you can do this, it's fine if you feel frustrated just do your best and you'll be fine," Flores said.
But despite the hardships that come with being a goalkeeper, Flores doesn't let that affect her everyday life. Most of the people who meet Flores, or have an interaction with her can tell right away that she is very kind and energetic. "Gali was super kind to me ever since we first met," said Bernat when asked about her first impression when meeting Flores. Another person who similarly complimented Flores was her friend and teammate, Aasiya Ali '22. When asked to describe Flores in three words, Ali simply stated "energetic, nice and caring." 
During her year as a soccer player for both West high's girls' JV soccer team and the varsity team, Flores grew as both a player and a person. 
"She's tough and works hard on the field," Bernat said. "She put in a lot of hard work throughout the season and I can't wait to see what she does next year." 
As of now, Flores is waiting to see if she made the varsity soccer team for this year and is very excited about the season starting