The Power of Music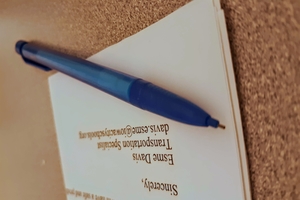 It is no secret that music is something that runs deep in the hearts and minds of the many peoples that make up our world. The students of Iowa City West High are no exception considering they, along with their teachers, make up a renowned musical arts department that contains award-winning choirs, bands, and orchestras. Alongside being an extremely musical school Iowa City West High is also a very academically successful one too with ninety-eight percent of their students graduating. But, that's not uncommon according to a study that was done by Frontiers in Neuroscience on whether or not children who were involved with a form of musical training at a young age had more proficient minds than children who weren't. The data gathered from that study provided evidence that children who were involved with a form of musical training as a child had a stronger verbal memory, the ability to learn a second langue more efficiently than their peers, and they also gained the ability to read well at a much younger age.
Miria Burns 20′ a senior at West High and an active choir student, elaborated on how being in a musical art has helped her in school, "I am in choir because I want to sing songs that sound cool, and I just like singing, but it also motivates me to get things done in an academic setting." Burns has been in choir for over 6 years and believes that it has been her savior when it comes to helping her maintain a good GPA and a healthy mental state. But, it seems that Burns isn't the only West High student who sees music as a helpful and motivational tool in an academic setting. Nineteen students were asked if they focused better on homework when listening to music or not. With the majority answering that they did focus better on homework while listening to music their responses matched what the scientists at Frontiers In Neuroscience found in their study. That music, whether you are in a musical art or just listening to it, can benefit a student in the long run.
But, a teacher in the literature department of West High, Mr. Lindsey believes that music can be influential and motivational when it comes to subjects such as writing. "I have to listen to something where it's not new, but for some, it can be something that's fresh where you can find words in the rhythm and you're not distracted because you're working with words." Mr. Lindsey believes that music can fuel many different people for varied reasons, whether it's what the lyrics mean or how the music sounds to an individual. Even though Mr. Lindsey may share the same opinion as the students of West High, that music can benefit students in school and while they work, he also believes that it has its positives and negatives, "People that have ADHD or have an inability to focus and think, at least they're in control of their environment because they have that cancellation but then I know kids who say they're less distracted by music when they are distracted by it." As an educator, he believes that when students are working they should be able to control their environment unless it's detrimental to them.
There's a power in music that science can now validate. Making the need for students to have an involvement in music far more important than before. Now it's not just an art form, it's a gateway to knowledge.