Girls cross country season rundown
Team finds success at state meet in Fort Dodge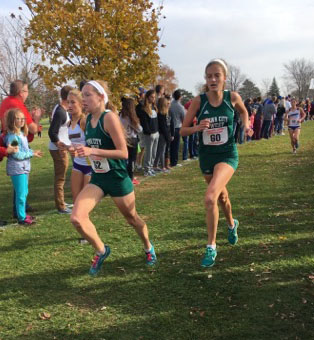 Emma Durian and Emma Gehlbach
November 15, 2016
With six team state titles under their belts and just as many individual state champions, no one can say that members of the West High girls cross country team are underachievers.
This past season was no exception. The girls' team qualified for the state meet for the 21st consecutive year and finished in fifth place as a team with Bailey Nock '18 leading the pack with a first-place 5K finish in a time of 18:06. Nock initially ran with her teammate Gabby Skopec '17 and two sisters from Johnston high school, Jessica and Brooke McKee, before taking the lead in the last 400 meters.
"I was just thinking that she was right there and when I passed her I was like, 'I need to give everything I have and I just need to sprint and run and just lay it all out there and not have anything left when I cross the finish line,'" Nock said of passing Jessica McKee, who finished in second place. She was followed by Brooke McKee and Skopec, who finished fourth with a time of 18:38.
"I was in shock for a really long time," Nock said of her performance. "It took awhile for me to get out of that after-race phase."
Skopec was the team's top runner for most of the season and was ranked number one in the state in class 4A for three weeks. Going into the state meet she was ranked number two.
However, Nock and Skopec were not the only ones with successful performances. Deniz Ince '19 clocked in at 20:00 to finish fourth for the team with a new PR.
"Deniz brought us up," said varsity runner Claire Ronnebaum '18. "She was encouraging our other teammates to come run with her and pass her."
Overall, the team had a very successful season and spent a week ranked number one in Iowa, but they didn't place as well as they had hoped in the state meet.
"It just wasn't our day… on that day we weren't together as a team," Ronnebaum said.
On November 13, five members of the varsity team ran at Nike Regionals in Sioux Falls, South Dakota. Nock placed 47th out of 269 runners from seven different states. The team placed 17th out of 32 of the best teams in the Midwest.
However, even though running is what brings them together it isn't the only thing the team has in common. Cross country has allowed the girls to form friendships that will last a lifetime.
"I'm friends with everyone on the team. I can actually go up and have a conversation with them that's not about cross country," said Asha Irani '17. "I could not have asked for a better senior year or a better team."