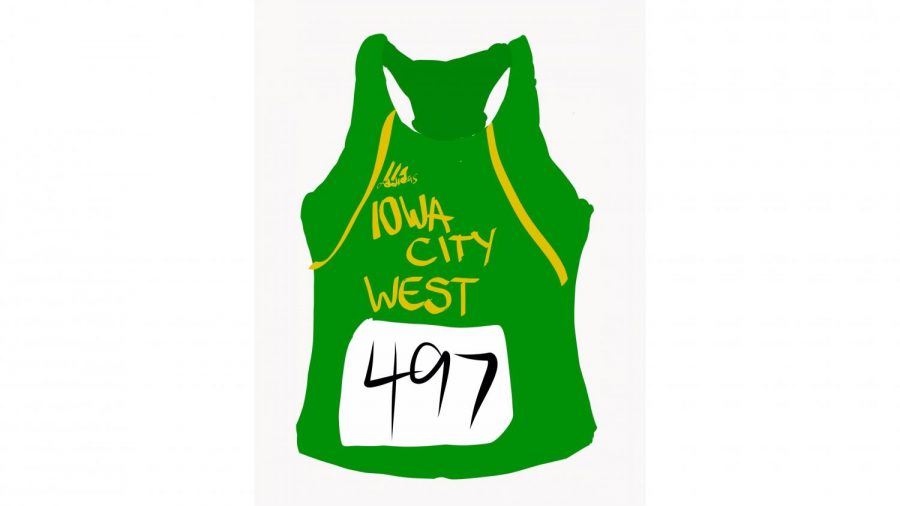 Girls varsity cross country participated in the state meet on Oct. 27 in Fort Dodge. Seven varsity members ran, with the junior varsity runners spectating. In all, 15 teams competed in the meet, consisting of schools from  across Iowa. West high finished 14th out of the 15 teams.
Camden Zirker '22 was the only freshmen on varsity that participated in the state meet. Zirker has been running since elementary where she began with a program called Girls on the Run. Although Zirker has participated in many other meets, she has never experienced a meet like this one.
"I was kind of nervous because I was the only freshman, and it was my first time coming to a meet that big," Zirker said. "My teammates helped me get over the stress, and then I was able to enjoy myself,"
Since there is a 24 year streak of running at state for the West High runners, they felt pressure to keep it. "I was kind of nervous throughout the beginning part of the qualifying meet," Zirker said, "I didn't want to lose our streak,"
Another varsity member and state runner is Lucy Westmeyer '21. Westmeyer began running in eighth grade and ran on varsity last year, while also partaking in the state meet last year. Westmeyer had previously played soccer throughout her life, but later switched to cross country to spend time with her friends.
Both Zirker and Westmeyer said they enjoy the feeling running gives them. Westmeyer believes that running is a good time to clear your mind.  "When you're running, you really don't think about anything else," Westmeyer said. "It's just really peaceful and really calming," Zirker on the other hand, enjoys the feeling of achievement. "I also like the feeling after you've accomplished a hard workout or competition," Zirker said.
"State is something that just always gets us really pumped up, but we're still nervous about it." Westmeyer said. Throughout the season Westmeyer focuses on each meet itself, while still being aware that the end goal is state. Westmeyer believes that the training her coach puts the team through gives them full capability to qualify for state.
To prepare for the state meet, the team practices six days a week, with each practice varying from 2 ½ to 4 hours. With state as the end goal, the team is always preparing for it. "We always train with state in mind. Will this be better for us? Will this help us at state?" Westmeyer said.
As state approaches,  team workouts change. "We cut back a lot on mileage and our track workouts have fewer intervals. It's so that our body can peak at state and we are well rested and prepared." Westmeyer said.
Although the outcome of the meet wasn't prefered by the team, Westmeyer and Zirker are still grateful they got to spend the season with their teammates. Both runners reflected on the season, remembering the Rimrock Classic meet. "The course was hard but when I finished, I knew that I had gotten a personal record," Zirker said. "I found my teammate Maddy and we hugged knowing that we had just had one of the best races of our lives,"
The season was wrapped up with the fall sports banquet on Nov. 5. Both Westmeyer and Zirker are disappointed the season is over, but are looking forward to track beginning in the spring.