Skip Molly's Cupcakes and Head to Scratch
Are you in the mood for a delicious cupcake but don't know where to go for the best ones? Fear not, Mary Woodward '21 headed out to Molly's Cupcakes and Scratch Cupcakery to determine the best place for cupcakes in Iowa City.
Hang on for a minute...we're trying to find some more stories you might like.
The great cupcake debate between Scratch and Molly's has long lived in Iowa City, that ends today because after driving around town, waiting in lines and purchasing way more cupcakes then I could ever eat I was ready to find the champion. I started with the basic cupcakes that everyone knows and loves; chocolate, vanilla and red velvet.
Appearance wise I won't lie Scratch won every time, their fancy brown wrappers were eye catching opposed to Molly's that had a plain clear wrapper. Scratch cupcakes looked professional and their toppings were gorgeous. Molly's cupcakes looked sub par and toppings were little to none. Scratch also has a bigger selection of cupcakes and not to mention the more polite and attentive staff worker behind the counter.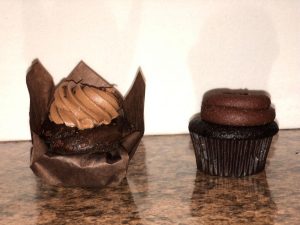 With eight cupcakes and six very eager taste testers I sat down to eat through many more cupcakes than I should have. To start off with I neatly took the frosting off of the cupcakes and set the frosting on to a separate plate. Then I cut the cupcakes into equal pieces and set them on a plate. My goal with dividing the cupcakes and the frosting was so that everyone on my tasting team could separately grade the flavor of each of the components of the cupcakes. We started with the MVP of all flavors, chocolate. The Scratch chocolate cupcake had a thicker more dense cake with a slight resemblance to a brownie which I didn't hate in the least, but probably wouldn't be my go to. The Molly's chocolate cupcake was moist and airy. Winner of the chocolate cake, Molly's. For the chocolate frosting Scratch won by a landslide with a sweet airy texture while Molly's chocolate frosting was plain and left little to be desired. Clearly Scratch won that round.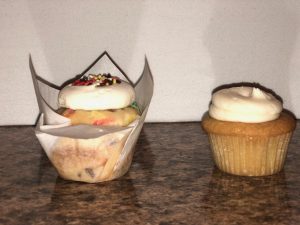 Next onto the classic and always reliable vanilla. As my hungry taste testers and I dug into the vanilla cake from Molly's there was one resounding consensus, this tastes like straight cornbread. I honestly could not tell if I was biting into a piece of cornbread or a Molly's vanilla cupcake. Safe to say the dense and somewhat sticky vanilla cupcake from Scratch took first place by a long shot. The Molly's vanilla frosting also disappointed with its bland and overly sweet flavor and with no shock to anyone the Scratch vanilla frosting blew us all away with its sweet airy flavors.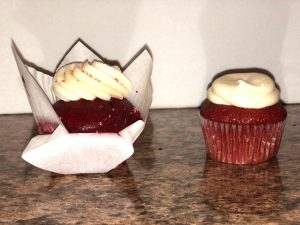 At this point I was extremely disappointed in the majority of cakes and frostings I had already tasted from Molly's but I was up for one more round with my personal favorite red velvet. With low expectations I dug in and not at all to my surprise I tasted a slight cornbread flavor. Now, don't get me wrong I love a good piece of cornbread but not in a cupcake thank you. With no surprise the red velvet cupcake from Scratch was delicious with a soft and airy cake, like biting into a cloud. The same is said for the Scratch sour cream frosting not sour and perfectly balanced. The Molly's cream cheese frosting was sour and tangy leaving me wondering if anyone had checked the expiration date recently. At this point it's clear the champion of cupcakes in Iowa City is Scratch Cupcakery.
Loading ...